Jun 14
8
Thanks for signing up for the gps-SpeakerMarketing.com email list.
Here is the full, pre-release
List Building for Speakers program
that I am working on…
My gift to you for signing up !
You might have seen some of these List Building Secrets buried within articles on our website, but since you signed up for our email list we are providing you all the links to the full program, List Building Secrets for Speakers!
Please note… the program is still in development so some of the pieces are not yet available.  Rather than wait, we figured it would be better to give you what we have so far (along with the outline of what you will eventually get).  If you have any suggestions to improve the program, please leave a comment !
There is still a load of incredible content for you to read at the links below … and if you would like to see this type of information as a video training course or even as a live Speaker-Training event, please let us know in the comments.
We are always working on new ways to help our customers grow their speaking business and list building is an important part of your success.
List Building Secrets – Module 1
Starting from Scratch
Why Build a List?
How to Send Emails to Your List
Why your Signature Matters
Avoiding Spam at all costs
Integrating List Signups into your site (locations + pop up / plugin)
Designing Your Giveaway(s)
The "One Time" Offer
Building Traffic
Best WordPress Plugin for SEO
Can't Buy Happiness through OPL
List Building Secrets – Module 2

Engagement thru Great Content
List Building Secrets – Module 3

TurboCharge Your List Growth
Video-ize Your Content
Reasons why others will send to their list for you
What is Affiliate Marketing
How to get JV partners
Building Your List from the Stage
Outsourcing
Resources
Just a reminder:
I'm sure you have noticed that some of the bullets above do not have active links (yet).  Rather than wait until everything was perfect, we figured we would get what we have to you as quickly as possible.  We are working on filling up this program so we encourage you to start wherever you like and check back on this page often to get more great content.
Now…

List Building Made Super-Simple:
Do you want a simpler way to build your list?  You could let gps-SpeakerMarketing "Do it For You".  Certainly all the information above is great but what if you had a partner who would help you get things done in half the time that it would take you to learn all this?  While the List Building Secrets are good to know…  if you are an expert in your chosen area, the real question is "Do you really need to be an expert in List Building?"  The answer, is NO.
Why did gps-SpeakerMarketing "spill the beans" and tell me all the insider secrets of List Building if they were going to do it for me?  The answer is simple… we find that a knowledgeable customer is a more successful customer and we are dedicated to your success.  Plus, if you find that the information we provide is useful, the chances are better that you will come back to us when you have a question or are looking for something to take you to the Next Level.  List Building is just one building block of a successful speaking business and we are here to help you put all of the pieces together.  To learn more, just send me an email via dave@gps-SpeakerMarketing.com and we can get the ball rolling.
 Next Step:  Become a BizBuilder !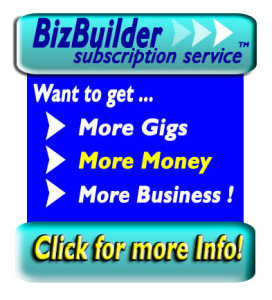 Click here and become a member of our BizBuilder Subscription Service.  This is where we send out all of the best information first.  We also have a number of events, online & in person, that are only offered to our BizBuilder clients.
The first thing we will do when you join the BizBuilder Subscription Service is evaluate your website and List Building and give you a professional report.  There is no added charge for this evaluation and some clients have found that this expert review is worth the price of a full year of the subscription service or more… and you get it for free just for signing up to be part of our BizBuilder group.  So if you want to put the List Building Secrets to work for your business, sign up now for the BizBuilder Group.  This is a one-time offer so click the graphic to the right to get started.