Jul 15
23
This is what you get when you purchase Dave Wheeler's Speaker One Sheet Online Workshop …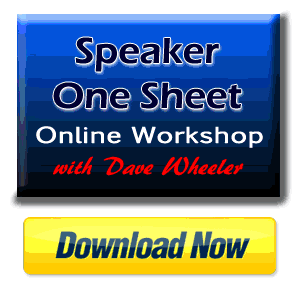 4 videos from the Speaker One Sheet LIVE Workshop
Dave Wheeler's Speaker One Sheet Online Workshop includes a video of his keynote workshop divided into 4 videos to make it easier to watch.
[ FYI – Shopping Cart for this product is handled by PayPal & NoteWordy.com ]
Audio file of the LIVE Workshop 
The full video is also converted to an audio file so you can listen to the workshop while you drive, although it is obviously better with the visual elements since Dave reviews a number of sample Speaker One Sheets as part of the workshop.


Sample Speaker One Sheets
A bunch of speaker one sheets are included as samples to give you ideas for your own speaker one sheet.

Speaker One Sheet Checklist
A listing of all the things you will want to gather before before creating your 1 sheet. This preparation alone will save you money (more about that later on this page).

Speaker One Sheet "brochure"
This is the trifold brochure that shows all the ideas / content that Dave presented in the workshop.
Speaker One Sheet "Notes Sheet" (handout)
Similar to the brochure, this Notes Sheet has key questions for you to consider while you watch the video of the workshop. It is also the handout that was given to participants of the live workshop.
$50 BONUS (Seriously!)
Hard to believe, but you might actually MAKE MONEY by purchasing this program because there is a $50 bonus at the end of video #4. This is the same bonus that was given out at the LIVE event and since the Online Workshop only costs $45, you might just come out ahead !
What more could you ask for?
Get started today and build the Speaker One Sheet which will help you get more speaking gigs!