Compressed
Content
Creation
for YouTube Videos.
Online video is one of the best ways for you to position yourself as a personality and/or a thought-leader within your industry.  It is also a great way to drive visitors to your website or blog, which, we all know can lead to more speaking gigs.
Challenges with YouTube Video for Speakers
Equipment.
Have you invested in the lighting and camera equipment that will give you the best, most professional, results?  Do you even know what you should be buying?  Rather than buying a lot of equipment, how about visiting Wheeler Studios on one of our Speaker YouTube Video Days where we help you shoot a number of short (2-4 minute) YouTube videos using our lighting, backgrounds (including green screen) and even our camera.
Editing Software.
Video editing, if it is kept simple, can be done for you as well or we can even bring in expert video editors (for high costs) if you want something fancy.  (To be honest, the quality of your content is more important than fancy editing for many YouTube videos.)  The key is to make sure the end result looks professional.
No Pressure or Deadline.
The problem with many would-be professional speakers is that they know that some interesting videos on YouTube would help improve their speaking business but it never seems to get to the top of the to-do list.  There is no deadline for completing the videos or mapping out the ideas you will talk about on camera.  When you sign up for one of our Speaker YouTube Video Days, you are given a time-slot on a specific day and if you don't show up, you can lose all of your deposit.  (We do work with our clients, especially our Inner Circle Group, to make sure we schedule the Video Days when they can make it, but the added motivation of a deposit can make the difference for some people between getting a video completed and just thinking about it.
The Answer …
Speaker Video Days !
gps-SpeakerMarketing.com schedules Video Days throughout the year to help our clients build their library of YouTube videos and fill out their YouTube Channels.  (You do have one of those don't you?  Don't worry if you don't, we can help with that too.)
Price:  $ 250.00 USD for up to 2 hours of studio time.  Most speakers can easily produce, even with multiple "takes", up to 4 or 5 short YouTube videos.  If the speaker comes prepared, they may be able to get even more.  If you are a member of "Toastmasters or have ever been to a Toastmasters meeting, your "TableTopics" skills can often get you some excellent video for distribution online.
Sign up Now !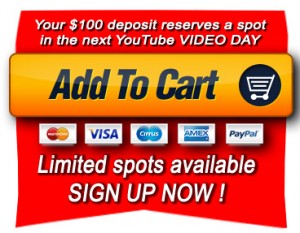 Our next Speaker Video Day is scheduled for Friday December 21st and we have a number of 1-2 hour slots available for speakers on a first-come, first-served basis.  The location is in New Fairfield, CT (North of Danbury, CT) and with easy access from NYC, Hartford, CT, New Haven, CT or even Albany, NY.
If you are interested, please use the Add To Cart button on this page to make your deposit.