Mar 13
14
gps-SpeakerMarketing offers Speaking Marketing services and products to help professional speakers (or aspiring speakers) to establish and grow their speaking business.
Jumpstart your Speaking – Marketing!
The Get-Paid-Speaking Marketing Jumpstart packages include the design and delivery of traditional marketing products around a speaker's central brand or theme.  Examples of products include graphic design & production of business cards, flyer/one-sheet and stand-up banner.
Deluxe
Speaking-Marketing Jumpstart Package:
The deluxe Marketing Jumpstart package from gps-SpeakerMarketing.com provides a speaker with all the [offline / real world] marketing tools they will need to present themselves in a professional manner.
The deluxe Marketing Jumpstart package starts off with a Personal Marketing Brand Consultation with one of gps-SpeakerMarketing.com's MBA Marketing specialists.  Various aspects of Graphic Design will be discussed as well as the speaker's target audience and future marketing plans.  The goal is to come to a unified game plan for all elements of your Speaker branding.
After the consultation, the speaker's logo will be designed.  This is typically done first since it will incorporate many aspects of the speaker's brand and will also be used on nearly all the other marketing materials.
A speaker's business card is generally very straightforward from a design point of view since it often follows the color scheme and design of the speaker's website, assuming they already have a website that is in line with their branding guidelines that were discussed as part of the Marketing Brand Consultation.  Most speakers opt for a full color, glossy front of their business card with a matte back which can be written on.  The back can also be printed with a speaker's theme or catch-phrase or most popular speech title and if it is done in black & white or grayscale it can still leave room for people to write.
Every speaker at one time or another will need to give a presentation and the deluxe Marketing Jumpstart program includes the design of Powerpoint slide templates.  Typically there are two styles provided… one for the initial slide or title slide and one for slides within the presentation (internal slides).  These also should follow the brand guidelines that were laid out at the beginning.
One of the most critical pieces of marketing materials is a speakers "one sheet".  This is a sort of flyer that explains what the speaker does for clients and the topic(s) that the speaker presents on stage.  The deluxe package includes the design & layout of a two-sided speaker 1-sheet along with printing a limited number of hard copies to go with the electronic version of the document.  An important note:  Speakers are responsible for the content (i.e. text) for the one-sheet although the deluxe Marketing Jumpstart does include a limited amount of coaching / editing.  Speakers are encouraged to start taking notes with ideas for things to include on their one-sheet as soon as possible so that they have more than enough content to create a compelling document.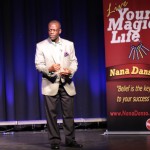 Finally, a stand up banner will be designed, printed and delivered to the speaker.  This retractable banner can be displayed on stage with the speaker or at the doorway to the event.  It is a great way to carry a speaker's brand image into pictures of the event as well as providing an excellent promotional tool for event organizers.  Depending on the design, it can also give visibility to a speaker's website or other online properties (YouTube Channel, Facebook Fan Page or similar).
By now you are probably wondering…. What is the price?
The deluxe Speaker Marketing Jumpstart Package sells for $ 2495.00.
BASIC


Speaker Marketing Jumpstart Package
The BASIC Marketing Jumpstart Package includes three things that provide the absolute minimum of marketing materials for a speaker to begin their professional speaking business.  The 3 components are:
1) A Personal Brand Marketing Consultation with one of gps-SpeakerMarketing.com's MBA Marketing specialists,
2) Graphic design and layout of your business cards, as well as
3) A single sided speaker "one-sheet".  A speaker's one-sheet tells about the speaker's topic, audience feedback and various reasons why someone should hire them to speak.  A one-sheet by gps-SpeakerMarketing.com is delivered in both hard copied form as well as electronic (PDF) format.
Printing of the one-sheet and business cards are included for a minimum quantity and the speaker can purchase additional prints if desired.
The BASIC Speaker Marketing Jumpstart Package sells for $ 1495.00.
When you are ready to take your speaking business to the next level …
Other popular products include the gps-SpeakerMarketing.com Online Business System, Internet Marketing 4 Speakers Training program and the Get-Paid-Speaking Marketing Jumpstart (GPS-MJ) package.
The gps-SpeakerMarketing.com Online Business System (OBS) ™ is much more than just a "website". It goes well beyond something you might create for free from a template and includes modules that are specifically designed to help a speaker grow their speaking business and expand their audience.
Internet Marketing 4 Speakers (IM4S) ™training program is conducted at least twice a year and covers the topics that speakers need to be familiar with to be successful with today's online business environment if they are going to build traffic of vistors to their website. IM4S is included in OBS or can be purchased separately.