Jun 15
22
Your Speaker One Sheet is a marketing tool that shows prospective clients what you have to offer as a speaker and, if done right, convinces them to hire you.

While a one sheet is an important tool in your marketing toolbox, it is only one of many that are critical to the success of a professional speaker's business. Other key tools include your website, business cards, demo video(s) and testimonials.

I look forward to working with you to create an amazing Speaker One Sheet and a thriving speaking business.
– d. Mark Wheeler
Founder, www.gps-SpeakerMarketing.com
Before you get started on your Speaker One Sheet…
Every successful speaker has a Unique Selling Proposition (USP). They strive to be the best in a clearly defiined niche or segment of the speaking market.
Motherhood & Apple Pie don't stand out
Unless you are bringing something of unique value to your target audience, why should they hire you? Saying the same old lines that they already know is a recipe for low fees and even worse… no repeat gigs.
Generic Speaker = low price
If you do the same as everyone else, you will end up competing on price. The good news is that if you can set yourself apart, you charge almost anything you want. The only limit is your customer's budget.
The Best get paid
Some speakers may argue that a top "motivational speaker" gets paid lots of money so why can't someone with less skill make a proportionally lower (but still good) fee? This might sound a little counter-intuitive but the answer is that even the top motivational speaker has developed a niche. They are "the best". In what area or topic will you be "the best"?
Know your Angle… build the one sheet.
By figuring out how you are different from other speakers and the value you bring to your target audience members, the task of creating your one sheet becomes much easier.
Every speaker evolves
Don't worry about making a perfect one sheet the first time. There is no such thing. Until you are making as much money as you want and have more speaking gigs than you can fit in your schedule, there is always room for improvement. Get feedback from every customer and adapt your speeches, programs and marketing (including your one sheet) to meet the needs of your audience. The better you meet their needs, the more you can charge.
OK, Let's Get Started on your Speaker One Sheet
First comes… Content Development:
Here are the important pieces of content you will want to think about as part of your one sheet.
– Start with Headlines & Taglines
These are the things that the reader will see first and they need to capture the attention of your target customer or your one sheet will be passed over. You need to stand out !
– Dig up some Key Quotes to feature
If you have a message that can be presented as a short quote, this is another way to get the attention of your prospective customer.
– Testimonials
You can also include images from testimonial videos that you have on your website. These can be positioned next to action shots or quotes
– Program(s) / Keynote Speeches
Focus on BENEFITS to your target audience or the person who will hire you. Don't quote features or buzzwords that only mean something to you.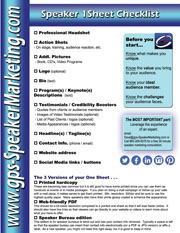 – Images
Must be at least 300dpi at the size they will be used. If you have a 300dpi image and you want to enlarge it for your one sheet it will become blurry. This is rarely a problem with today's cameras but it is something you should be aware of as you gather images for your one sheet, especially action shots of you on stage.

– Speaker One Sheet Checklist.
We considered asking for your email address before giving you the link to download the Speaker One Sheet Checklist, but we figured you would sign up eventually and it is probably better to get you going as soon as possible so here is the link to download the Speaker One Sheet Checklist. Right Click the link and "Save As" onto your computer.
Now The Fun part… Style & Layout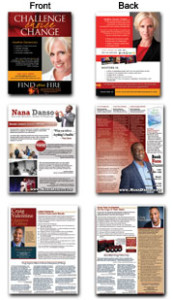 When you are picking a style or layout of your speaker one sheet, consider the following.
– Brand-related
– Colors / Images
– Feel of your website
– Sample Speaker One Sheets. There are loads of them online, but here are a few to give you ideas.
Now do it !
[or have us do it for you]
Our sales pitch is included below…
[if you read to the bottom that's where you will find pricing for our Speaker One Sheet development services … and how you can get a discount.]
Do you have all the marketing tools of a professional speaker?
* Speaker Website
* Demo Video
* Testimonial Videos
* Marketing Materials
– Business Cards
– Standup Banners
– Speaker One Sheet
These are the tools that help show prospective customers that you are a professional speaker. If you are a great speaker but you don't have a website, video of you speaking and professional marketing materials, it will be hard to be taken seriously.
gps-SpeakerMarketing.com can help !
We work with speakers to take their marketing materials, videos and website to the next level of professionalism. Whether you need graphic design, video editing or website setup or overhaul, we can help.
Call today
860-309-0070
or send an email to
Dave@gps-SpeakerMarketing.com
Speaker One Sheet Development Pricing:
We charge between $500 to $1000 for most speaker one sheets that we create for clients. The higher end of the range includes copywriting, editing and, in some cases, extensive graphics work. The lower end of the range is typically when a client has all the elements needed for their one sheet (see the Speaker One Sheet Checklist), all the text for the one sheet and a clear idea of what they want, e.g. style, layout, etc. Give us a call or send an email to us today for a free 30 minute consultation. Once we know where you are in the speaker marketing process, we can create a custom plan and provide a detailed quote for your speaker one sheet as well as other services you might need.