"The Basics" … and beyond
Speaker Business Cards
As a professional speaker, your speaker business cards are your chance to give your potential customer something that separates you from the rest of the crowd while also providing them with a physical reminder of your key selling points.
Stand out from the Crowd
There are a number of ways that speaker business cards can help you stand out from the crowd.  The use of color, shape/size and even printing on the back can all add to the marketing impact of your business cards.
Full Color Edge-2-Edge.  With the current printing technology, there is no reason you should not take advantage of a full color business cards.  A good graphic designer can even create a card for you that uses "full bleed" or colors/graphics/pictures that go all the way to the edge of the card.
Non-standard shape/size.  A standard business card can easily be lost in "the pile" of other cards that someone accumulates from other professional speakers.  On the other hand, if your card is too big (e.g. postcard sized?) it might not make it to "the pile".  That can be good or bad depending on where it ends up.  If it gets lost, then maybe another non-standard shape might be worth considering.
There are folded business cards (which can sometimes be long and narrow so they can also function as book marks).  There are die-cut business cards if there is a shape that makes sense within your branding efforts.  What about something as simple as rounded corners?  By working with a good graphic designer, you can decide which shape will really make you stand out from the crowd.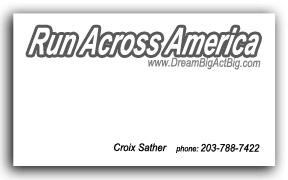 Front/Back printing.  The backside of your business card is one area that is often overlooked.  A simple watermark can reinforce your brand while still leaving room for your customer to write notes about your speech.  The key is to use all the tools that are available to help you stand out from the crowd and the first step is to find an amazing graphic designer who is familiar with the latest printing technologies to work with you on an amazing design for your business cards.
Memorable > Remarkable
Speaker Business Cards
Seth Godin, marketing guru, wrote a classic book called "Purple Cow".  The main point of the title is that when driving through the countryside you see lots of cows.  They are usually black & white or possibly some brown ones.  None of them are especially memorable, but what if you saw a "Purple cow"?  That would be memorable and, as Seth points out, you are more likely to tell someone about the purple cow you saw.  The Purple Cow is "remarkable"… i.e. you are "able to remark" about it because it stands out from the crowd and is also memorable.
How memorable is your story?  What will people be talking about after your speech?
Your business card should support your branding by being memorable and reflect how you want to stand out from the crowd.
Samples of Speaker Business Cards
by gps-SpeakerMarketing.com
Below are some additional samples of speaker business cards designed and printed for gps-SpeakerMarketing.com clients.

 This one takes some of the graphic elements built into the speaker's website, www.dmarkwheeler.com, and builds them into a simple, yet effective business card.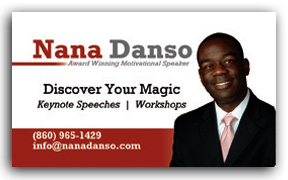 These speaker business cards use the color palette and font from the speaker's website, www.nanaDanso.com, along with a layout that is similar to the header of his website.  This consistency ties together all the elements of the speaker's marketing plan and lets prospective customers know they have found the right website !
Logo design was another aspect of this card since it was designed for use by any member of the gps-SpeakerMarketing.com team.  It also highlights the top 3 services that are offered to speakers (beyond just business cards).
How can we help you improve
your Speaker Business Cards?
Perhaps as part of a complete revamping of your marketing materials?  Or even provide insights to improve your marketing strategies?
Contact us to learn more !