Mar 13
1
For a professional speaker, "just any old website" won't produce the results that is needed for long term success and profits.  A speaker needs a true "Online Business System" to leverage the latest technology and access as many business opportunities as possible.
At gps-SpeakerMarketing.com we have spent literally thousands of dollars studying the systems and methods of some of the most successful internet millionaires.  We have then adapted the insights from those experts and tailored them so they will work for a speaker's online business.
What is an Online Business System for Speakers?
An Online Business System4Speakers ™ is more than just a website.  It includes the following components, many of which go well beyond the creation of a website and help establish a speaker's overall "Web Presence" online: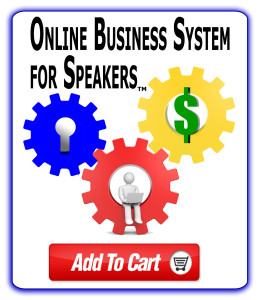 List building Tools
Media Kit
SEO Friendly framework
Blog
Graphic Design (as needed)
(gps-SpeakerMarketing.com is a full-service marketing & design company for speakers)
Products / Programs page(s)
About / 1-sheet
Article Marketing Services
Link Building Campaign
Social Media Integration
And Much More !
Internet Marketing for Speakers Training: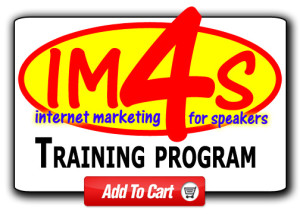 In addition, every Online Business System speaker client of gps-SpeakerMarketing.com has access to our "Internet Marketing for Speakers (IM4S) ™" training at some point in the development of their online presence.  IM4S includes the following "speaker-specific" training modules/topics:
Keyword Research & Selection – including gps-SpeakerMarketing.com's proprietary Keyword Prioritization Algorithm spreadsheet to help determine which keyword or keyword phrase(s) you want to dominate for your business.
Content Creation Tools
Traffic Building Basics
Video Creation & Marketing
Link Building
Website Management Training
Paid Promotion Sources
Outsourcing for Productivity
IM4S is offered in two formats.  The IM4S-LIVE event is scheduled at least once a year while the IM4S online training starts at least twice a year and includes training videos as well as educational materials such as checklists and action guides.  Group conference calls are part of both formats and run every week or two for up to 8 weeks.
How Much Does it Cost?
gps-Speaker Online Business System ™
$ 10,000.00 USD

This is typically paid upfront but it can also be paid over four months at $4K-2K-2K-2K.  The Add-to-Cart button above is for the one-payment plan.  If you want to spread the payments over four months, leave a comment below and we will send you a link to pay.
Additional services, such as development of secondary marketing materials such as a stand-up banner, business cards or brochures are provided to Business System clients at a reduced rate.
Internet Marketing for Speakers (IM4S) ™
$ 2995.00 USD
This is typically paid upfront but it can also be paid over four months at $2K-1K-1K for a total of $4K.
What if I want a "Do-it-Yourself" option?
We recommend purchasing the IM4S Training since all the activities that are done for you as part of the Online Business System are explained in that training.  Depending on your expertise, you may also hire gps-SpeakerMarketing.com to do certain services for you such as Secondary Article Creation & Distribution or Graphic Design of your one-Sheet or other marketing materials.
If you have any questions, please leave a comment below and we will respond either via email or on this page, whichever is appropriate.  We look forward to working with you to build your gps-Speaker Online Business System!