Mar 15
17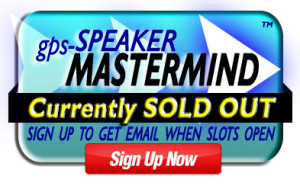 Sign up NOW so you are on the list for the next time slots become available.  First come, first served to take your speaking business and professional image to the NEXT LEVEL !
What to expect as part of the gps-Speaker Mastermind Group:
Group Calls at least once per month.
These calls focus on common challenges facing the group.  Past topics included Business Model Review, Importance of Keywords and much more.  Another feature of the group calls is the "Hot Seat" where one of the members presents a challenge they are facing so they can benefit from the combined wisdom of the group.  Often this "3rd Party Perspective" can cut through the clutter and deliver some amazing insights for the person with the challenge.
Guest Experts / Subject-matter Experts
While gps-SpeakerMarketing.com has quite a bit of expertise when it comes to Marketing for Speakers, there are other experts out there who may specialize in a particular aspect of the speaking business or have some experience that would benefit the Mastermind group.  These experts will be brought in for interviews and/or interaction with the Mastermind group.  This way you will benefit from a wider pool of expertise as well as some of the latest techniques in the world of speaker marketing.
One-on-One Consulting / Marketing-MBA level Coaching
As part of the gps-Speaker Mastermind group you will have access to a one-on-one consulting / coaching sessions with Dave Wheeler, Founder of gps-SpeakerMarketing.com.  He will help you implement your Marketing Plan and while there may be some costs associated with certain projects, e.g. printing costs, travel, video creation, you will get the highest discounts possible.
What are they saying about
gps-SpeakerMarketing & the Mastermind Group?
"You could be the best speaker in the world… but if you don't have a good marketing platform, no one will hear about you and you will never get hired…. I highly recommend gps-SpeakerMarketing." – Nana Danso, keynote speaker, author of Real Magic and the Believe & Achieve, Take Action Seminars.
"I needed guidance because I didn't know what I should do for a promotional video, where I should market it or basically what I should do ….[gps-SpeakerMarketing] knew exactly what to do.  He was able to guide me.  I told him what my vision was and he told me the steps I needed to take for it to be successful.  … I am getting rave reviews." – Heather Hansen O'Neill, Connection Expert, author & keynote speaker
New Members to the gps-Speaker Mastermind Group get a
Personalized Marketing Plan (PMP) which includes…
A personal one-on-one call each month to pull together your PMP and follow up calls, as needed, to keep the plan on track or adjust it as new challenges arise.  The PMP is custom tailored to the needs of each speaker.  Some of the areas that may be covered include…
Speaker Marketing Strategic Planning
Event Marketing Support
Video Marketing
List Building Strategies
Business Model Review
Branding Review
– color scheme / palette
– marketing materials (business cards, one-sheet, promotional materials)
Website Review / Upgrades
– Traffic Building / Conversion / Analytics
– Integration of List Building / Giveaways
– Branding elements- Navigation / User Experience / Call To Action
– Keyword Usage / SEO elements
– Content / Value Proposition
How do I get started?
First, you should sign up so you are on the pre-release list when the gps-Speaker MasterMind slots open up.  It is very possible that any new slots will fill up very quickly based on the interest that has been shown over the past few months and we don't want you to miss out on this opportunity.
Assuming that you get one of the open slots, we will schedule a one-on-one "Welcome Call" with you to review your goals for your speaking business and gather some information so we can research and start to review the various elements mentioned above.  Once the review has been done, we will discuss the results with you and work with you to lay out a Personalized Marketing Plan for your speaking business.
How much does it cost?
Good question.  Each time the gps-Speaker Mastermind group has been opened to new members the price has gone up so if you pass on this opportunity, please know that it will likely cost even more the next time a slot opens up for you.  Having said that there are two payment options:
$15,000.00 USD for the full year (12 months)
or $1500 per month if paid monthly.
EARLY BIRD DISCOUNT…
the first 6 speakers who sign up will be given a discount code so they will only pay $1000 per month (pd.monthly).
EXTRA BONUS for all new members: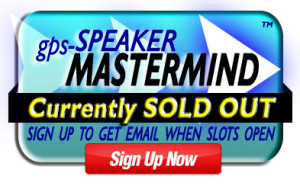 Your first month will come with a Money Back Guarantee.  That means you get loads of value and if, within the first 30 days, you let us know that it is not for you, then you will get your first month's payment refunded.  Of course this also means that we are incredibly confident that you will be blown away by everything you get that as part of the gps-Speaker Mastermind Group that you will stay with us and roll out your Personalized Marketing Plan to grow your business.
So there is no reason to not sign up NOW.  By signing up right now, you will be placed on the pre-release list for the gps-Speaker Mastermind group and as soon as the slots open up, you will be sent an email with a link with more information on the next steps.