Feb 15
21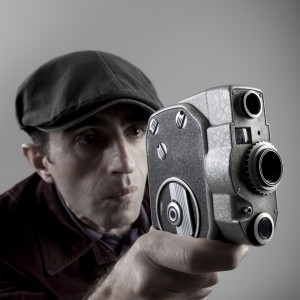 If you are looking to choose the best video camera for speakers so you can record your speeches for later review or maybe even use the video as part of your speaker demo reel, this article covers some of the things you need to consider.
The suggestions below are based on the product research I did before I purchased my own equipment as well as the experience I have gained over the years taping speakers on a regular basis and consulting with them to help set up their own capacity to videotape their speeches.  Bottom line, every speaker should videotape EVERY SPEECH.  You never know when you will improvise on stage and come up with a new twist on your delivery or a particular phrase that really resonates with your audience.  You don't want to miss any moment that you are on stage.
The Best Video Camera for a Speaker …
In terms of camera (or video system), this is what I suggest…
1) Must record HD.  This is kinda obvious, but it had to be said,
2) external microphone input on the camera.  This is needed if you go the wireless mic route or want to add a "shotgun mic" later.
3) good light sensitivity because many stages for speakers do not have great lighting.
4) capacity to record a minimum of 1 hour of continuous video.  Some Digital SLR (DSLR) cameras only shoot around 20 minutes of HD before you have to hit "Record" again which can cause loads of problems if you want to just set it up and let the camera run to the end of your speech.  This is also related to the amount of digital memory the camera has or is capable of using.  The minimum memory for keynote speakers that I use is 64GB.
5) Other considerations include …
Price (you can find a good video camera for speakers under $500),
Size (keep in mind that you want something that is easy to take to every gig without too much fuss),
Accessories (external mic's, lens hood, extra batteries… these are what I have.)
Some more ideas regarding good audio…
If there is any question about the quality of the audio going into the camera (perhaps due to the distance of the camera from the speaker), I also record the speaker using a lapel mic into a small digital recorder with high quality sound.  I can then sync this recording with the audio that was recorded in the camera using my video editing software. That usually means spending over $100 for one of the better small digital recorders.  The lapel microphones can be rather cheap as long as they capture sound well.  The one I use the most is an "omnidirectional mic" and was actually from Radio Shack for under $50.  It captures the speaker's voice very well and has the added benefit of capturing the audience's reactions (applause, laughter, etc.).
ABC's of audio for speakers on video:
a)  Always carry extra batteries for your lapel mic (usually watch batteries) and your audio recorder (AAA?).
b)  Be sure to test them before your speech by recording a quick "Test, One, Two, Test" and playing it back.  Nothing worse than giving a great speech and then finding out you did not get good audio.
c)  Choose a recorder with a "hold" button.  My recorder's "hold" button is set up so that I can push the Record button, hit the HOLD switch and none of the other buttons can be pushed until the HOLD switch is turned off.
A clip for the recorder is also a good idea, although I do not have one.  (I end up sticking it into a pocket or waistband of the speaker.)
One last "thing you need"…
A full size tripod is another important videotaping tool since you don't want the motion of the camera to be an issue.  The best video camera in the world won't be much good if the camera is hand held … and the person shakes with laughter with every joke you tell from the stage.
What if the "Best Video Camera for Speakers" means hiring a professional …
There are many times when you want better quality video of your speeches.  Perhaps the crowd is large and you want to capture their reactions while also getting videotape of your speech.  That requires multiple cameras and a video professional should be able to supply the necessary equipment.  There is also the issue of operating multiple cameras, especially if one or more of the cameras are going to follow you on the stage or get reactions from the crowd.  Being able to pan smoothly across a stage or crowd while keeping the frame centered properly is a skill that professional videographers develop over years behind a camera.
Another thing to consider is that often the person who videotapes can also edit all the raw video from an event into a speaker demo reel for you or even create a professional looking "sample presentation" which you can provide to planners looking to hire you for future gigs.
I hope this article about finding the Best Video Camera for Speakers was of help to you. Please leave a comment below if you have more questions or ideas for other things we should write about here at www.gps-SpeakerMarketing.com.  Would you be interested in an article about "How to Use your Smart Phone to videotape your speech?"